Travel Guide for Boston, USA
The city of Boston may be the epitome of American history, but you just can't visit without experiencing their diverse food scene. After lots of menu reading and cross-referencing restaurants using Boston Magazine's 50 Best Restaurants 2017, Eater Boston & Zagat's Top 50 Restaurants in Boston, I was able to narrow our foodie exploits to 5 incredible restaurants. They were all located in the general Boston metropolitan area, inclusive of the cities Cambridge and Somerville. My fiancé Tommy and I did more than just eating and drinking, so I have included 4 "What To Do" activities as well.
This infamous seafood joint with a quality raw bar and cult following over a lobster roll, obviously made the cut. We killed two birds with one stone by exploring the North End aspect of the Freedom Trail before heading to this nearby restaurant. There is a local debate on whether the "hot with butter" or "cold with mayo" lobster roll is the best, but don't ignore the other incredible dishes on their menu. I absolutely loved the simplicity and classic pairing of the seared scallops with sweet corn, smoked bacon and pea tendrils. Hands down Neptune Oyster had one of the best raw bars we experienced in the city. This one is not to be missed, so believe the hype!
Epicurean Tip: This walk-in only restaurant is always busy so make sure you are there early. We arrived 15 minutes before they opened and there was a line of 30 people already. Luckily a group of 8 just in front of us got bumped as there weren't enough seats (rookie mistake), so we got the last two seats at the bar.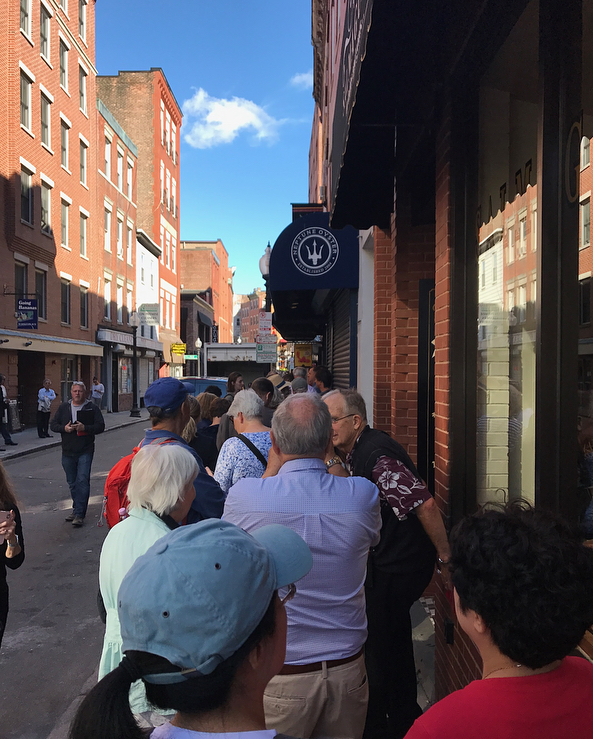 The Tasting Counter is a 20 seat restaurant using only the best seasonal ingredients and offering a truly unique dining experience. Even before arriving we informed them of any food allergies, chose our beverage pairings (wine, sake or beer) and paid for the meal during our online booking. Having all of this information from the start likely led to the flawless service. It was mesmerising to watch the cooks operate like a fine tuned machine as they transitioned from cooking to plating and serving each course. Each plate and beverage pairing were explained in great detail allowing the diner to truly appreciate what was in front of them. Lunch may have only been 3 courses served in an hour, but the addition of an amuse-bouche and small sweets gave an added touch. Each dish was unique and our tasting consisted of Gremolata Dumplings with hen of the woods mushrooms, preserved lemon and sea urchin foam; Atlantic Sea Bream with pine mushroom, daikon radish and black olive crumble; and an Espresso Cake with honeycomb, orange, coffee milk and bay leaf ice cream. I already know that I will not be passing up the 9 course dinner on my next trip.
Epicurean Tip: It is a little difficult to find, so make sure to get there a few minutes before your reservation. They are efficient and strict on time because they cook for all diners at once. If you are more than 15 minutes late they will start you off at whichever course they are working on.
Halfway through the Freedom Trail we took a detour to this eccentric wine bar to try some interesting snacks. Haley Henry is described by Eater Boston as the place to get "funky, hard-to-find wines" paired with high quality tinned food. I know that sounds like an oxymoron, but even Alton Brown said that Haley Henry are doing some "ingenious work", especially because they lack a kitchen. What he says is true because they literally are cooking behind the bar. We went with the staffs' recommendation of Buttered Jonah Crab with lemon, piri piri and toast, as well as the addictive Spanish Langostillos in Brine and the spicy American Habanero Oysters both served with potato chips, lemon and an anchovy parsley aioli. This is definitely the most out-of-the-box restaurant I have ever visited and my opinion on tinned items has changed for the better.
Epicurean Tip: They are willing to open any bottle of wine as long as you commit to at least two glasses.
One of the main reasons that I chose The Table was because it's headed by recent Top Chef alum Carl Dooley. Being a mega Top Chef fan and seeing that this ingredient driven restaurant was serving a 4 course pre-fixe menu at a mere $69...it was a no brainer. Not only was the service phenomenal, but each dish we received was better than the last. It all started with the fluffiest gluten-free bread I have ever experienced, to a fresh Cured Local Swordfish, a Suckling Pig Head Rigatoni and ended with a rich Dark Chocolate Crémeux with pumpkin ice cream and an unforgettable Sesame Meringue with a concord grape sorbet. If you are in the Cambridge area this gem of a restaurant is worth a visit.
Epicurean Tip: This intimate restaurant consists of only 20 seats so make sure to reserve your table well in advance.
If you are looking for the highest quality sushi and sashimi in the city, then look no further than O Ya. The menu may focus on freshly prepared raw seafood, but they also offer some flavourful cooked plates. We opted to sit at the Chef's Counter so that we could watch the sushi chef in action as he intricately plated each nigiri and sashimi dish. The plates are small (and costly!) so it took a lot of food to actually get us full. The silver lining is that this allowed us to try an array of items from their expansive menu. Note that they even cater to gluten-free foodies with a separate menu highlighting which dishes can be substituted or altered. The standouts for me were the innovative Karikari Crispy Sesame Chicken Skin nigiri with foie gras powder, luscious Hamachi nigiri with banana pepper, unctuous Crispy Pork Belly with celery root puree and fresh Ora King Salmon Tartare with warm nori sheets. Save room for dessert because their Mochi Donuts are delectable! This is the definition of a splurge restaurant and you should know that they won The Improper Bostonian's Best Food & Drink 2017 award for the "Place To Go When Money Is No Object". #truth
Epicurean Tip: You do not have to do the Omakase (17 course tasting) or Grand Omakase (21 course tasting) menus to sit at the Chef's Counter; just order a la carte like we did.
What to do...
This collaboration between Area Four and Roxy's Grilled Cheese brings back some serious childhood memories in the form of an adults-only arcade. Roxy's takes on the front of house where guests can gorge on some of their famous grilled cheese sandwiches. But the real action is through an imitation walk-in freezer door for those 21+. The arcade is chock full of nostalgic video games, foozeball, skeeball, hoops and shuffleboard to keep you busy for hours. Stop by one of the two bars inside and try the "There's No Crying in Skeeball" cocktail which consists of Tequila, Lejay, Lime and is 'Spicy AF', or the "Worst. Drink. Ever" made up of vodka, St. Germain, cranberry, citrus shrub and soda. We loved it so much that we went back twice!
The Freedom Trail is the one tourist attraction that every Boston website and resident will tell you to do. I am not massively into history, but I figured at the very least I could use it as an opportunity to tour the city of Boston on foot. First we stopped at Faneuil Hall, a marketplace and meeting hall since the 18th century. Today, along with the North Market, South Market and Quincy Market buildings, the area plays host to an array of food vendors, retail shops and is a great place to buy a souvenir. The "other" Cheers bar is located here, so we popped in, grabbed a beer and purchased a souvenir baseball cap.
Though not officially a part of the Freedom Trail we came across the New England Holocaust Memorial. These 6 sizeable glass towers represent different major extermination camps and are inscribed with numbers in honour of the 6 million Jews killed during the Holocaust. This captivating memorial takes it a step further by displaying survivor quotes and even has steam rise up from metal grates as you walk through.
We walked into the Granary Burial Grounds where we located headstones of historical figures, like John Hancock & Samuel Adams (signatories of the Declaration of Independence) and Paul Revere (American Revolution patriot known for his "Midnight Ride"). This was easy to navigate through as a gentleman at the entrance was handing out homemade information booklets for visitors regarding the notable burials. A small tip was appreciated after returning the booklet back to him as you exited.
We finished the Trail by walking through Boston Commons which is a stunning green space located just West of the main city. The amount of squirrels this island girl pointed out was probably screaming "tourist" to all the bystanders, but I couldn't help myself. We exited Boston Commons to reach the "original" Cheers bar that actually inspired the TV show and of course grabbed a drink down the stairs. Well deserved after walking 2.5 miles if you ask me!
The Trillium Garden is a summertime partnership between Trillium Brewing Company and the Rose Fitzgerald Kennedy Greenway Conservancy. Once the weather warms up in the summer this fenced off beer garden opens up to the public until it gets too cold. During our visit in mid-October we were lucky that it was still open, albeit a bit chilly. This relaxed venue is fitted with fairy lights and picnic tables that surround Trillium's mobile bar. They offer a selection of their own draft beers, but for those looking for wine have no fear as they offer a few from Westport Rivers Winery. Note that no tabs are allowed so payment with each purchase is necessary via cash or card.
What better way to end a trip then to end up this entertaining establishment. I had never actually been to one of these before, but I have heard a lot of great things. It is truly impressive to see talented musicians not only play a variety of instruments, but also take on song requests from drunken patrons. I couldn't believe that they could play and sing these requests by heart, like mine of "Everybody Wants To Rule The World" (nailed it!) If you want to see live music with a twist then you have to check them out!
Following my first trip to Boston I realize now that there is more to the East Coast than 'The Big Apple'. The restaurants we went to were eye-opening because of their attention to detail, superb service, out-of-the-box concepts and high quality ingredients. I would happily return to any of these restaurants and highly recommend you give them a go also. I may have been skeptical at first in regards to non-historical things to do, but we had a great time. I think that Boston has so much more to offer than I had the chance to see. My future sister-in-laws live in the area so I already know that this will not be my last visit.
I hope that this Boston guide has inspired you to take an adventure to see, eat and drink somewhere new. If you have any suggestions for my future trips or have any other Boston-related questions, just send me a message!