Slow Food Day 2018
Too often we let our busy lives dictate how we eat; hurriedly consuming a to-go meal from a fast food joint just to get through the day. This is why Slow Food Day exists, as a reminder that sometimes we need to slooooow down. This international movement is embraced by more than 130 countries and allows us to appreciate our local farmers, sustainable ingredients, traditional cooking techniques and to promote small businesses. Once again, Slow Food South Sound and Camana Bay joined forces to promote Cayman's farmers, artisans and restaurants. This year they organised four events targeting epicureans of all ages and luckily I was able to participate in three of them.
Farm-To-Table Tasting Market
This years Farm-To-Table Tasting Market was once again situated at The Crescent in Camana Bay. With approximately a dozen restaurants ready to show off their transformation of local ingredients into innovative, wholesome and tasty dishes there was much to be excited about. Some of the standouts this year included The Kimpton's flavourful and spicy tomato tartare, The Westin's scrumptious Nepalese lamb dumplings, Cayman Cabana's refreshing coconut ceviche, Agave Grill's complex pozole verde, Cracked Conch's whimsical and tasty salted lionfish foam and Lola's rich coconut & banana pie. Foodies who made it to all of the vendors with their $10 tasting passport were entered in a raffle to win a $100 Camana Bay gift certificate - sadly, I'm not one hundred Camana bucks richer. Besides trying all of the food on-site, festivalgoers were able to watch culinary demonstrations that utilised local ingredients and get their weekend farmer's market shop done.
Cayman Food Revolution's Seed2Plate Workshop
I was asked by Food Revolution Ambassador, Chef Maureen Cubbon, to be a team leader with this year's Seed2Plate Workshop. This was an opportunity for me to see firsthand how passionate, knowledgeable and skilled Cayman's youth are when it comes to food. The Seed2Plate programme aims to educate and actively engage the youth in learning more about where their food is coming from, creating healthy eating habits from an early age and even nurturing future chefs by teaching them how to cook a healthy meal.
During the workshop I lead a team of five young girls and we worked through a recipe provided by Chef Maureen; we chopped vegetables, sautéed our farm-raised ground beef, seasoned our dish and sliced buns for our "Super Sloppy Slow Joes". Chef Maureen loves hiding vegetables in approachable, kid-friendly meals, so besides the staple ingredients we needed to create a sloppy joe, we were able to incorporate corn, carrots and lentils into our dish - sneaky sneaky. After tasting it a few times, the girls decided it was "delicious!" and felt confident in sharing their creation with the other teams. The other three teams served up bacon & callaloo mac & cheese, vegetable fritters and an Asian chicken & veggie stirfry. They all tasted great and I was even more impressed when I remembered that these kids are only 8-12 years old! Over the year's Cayman Food Revolution has continued to grow and I'm happy to report that the donations raised from Slow Food Day 2018 was enough to create another Seed2Plate school. Learn more about them at http://bit.ly/CaymanFoodRevolution.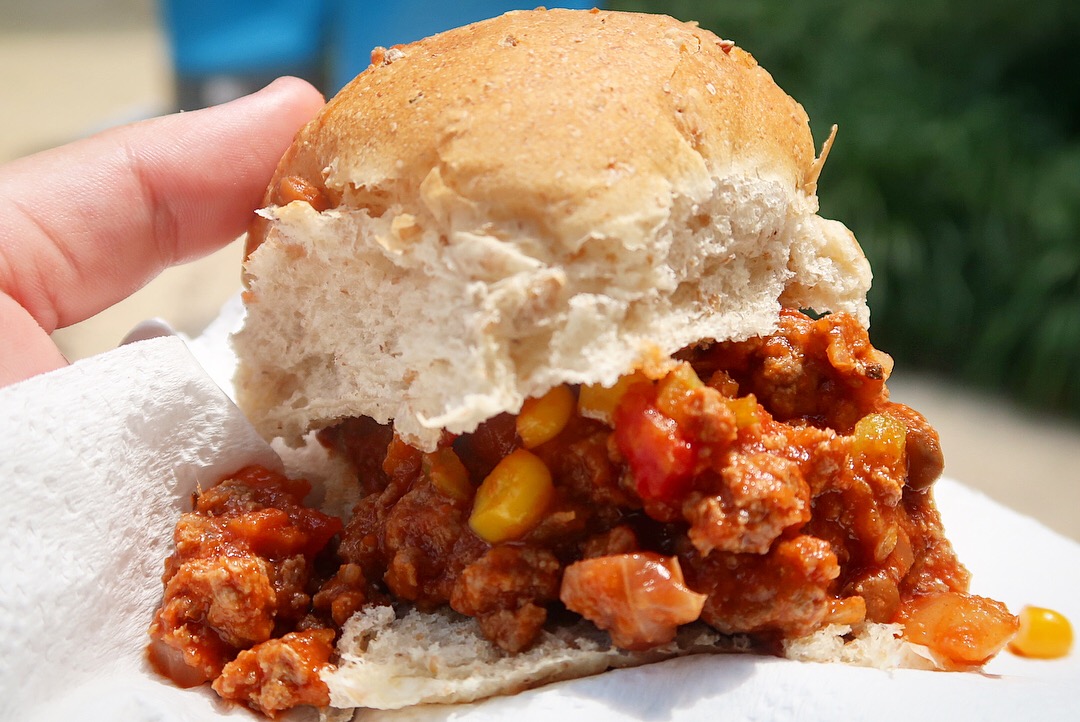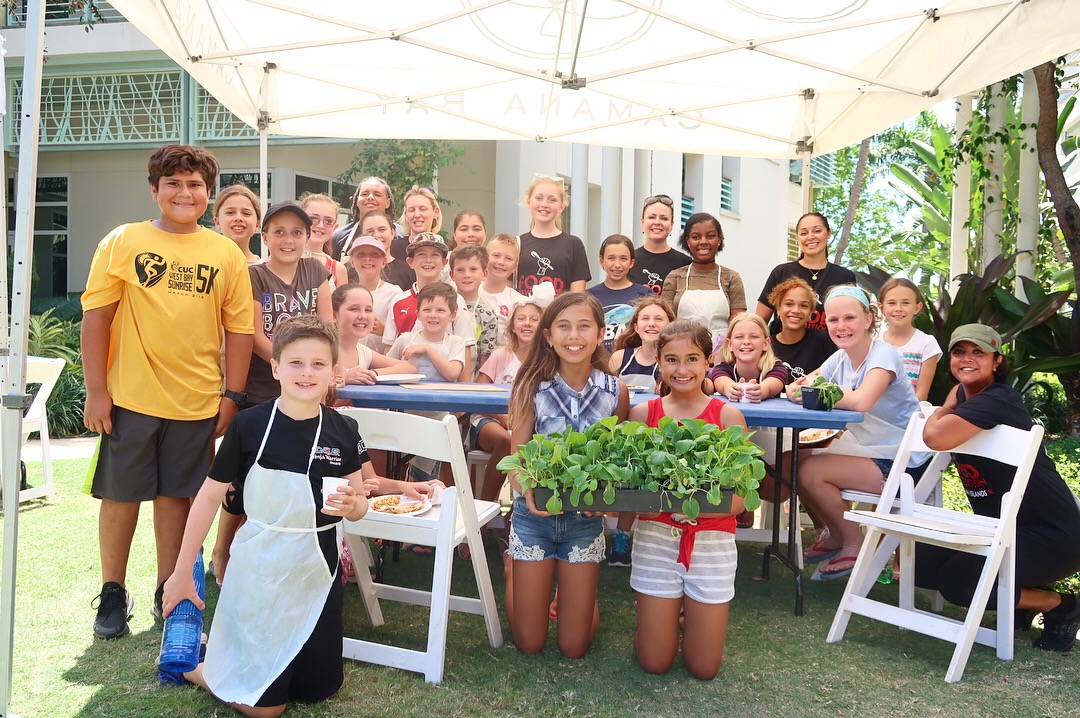 Harvest Dinner
This year's feature chef for the Harvest Dinner was none other than local boy and UK Young Chef of the Year 2017 winner, Jack Barwick. Along with the team from Pani Indian Kitchen, they created a menu focused on Indian flavours and traditional cooking techniques, all while utilising local ingredients. The evening started out on the dock in front of Mizu with bubbles and passed canapés consisting of fish cakes, banana flower fritters and potato samosas. We then moved to our seats and enjoyed an evening under the stars where a family style dinner was prepared with a selection of naan and plates consisting of local ingredients like snapper, goat, eggplant, moringa, cassava, yam and cherry tomatoes. The red goat curry had a depth of flavour and was incredibly tender; I just wish we could have had more of it! Though there were technical difficulties with the opening speeches, the food spoke for itself and demonstrated that Caribbean ingredients and Indian flavours can fuse well with one another.