10th Anniversary of Cayman Cookout
As this year's winner of the Cayman Islands Department of Tourism's (DOT) culinary blogger competition I received an all-access pass to the majority of Cayman Cookout's 10th anniversary. I looked forward to getting the full Cayman Cookout experience; meeting celebrity chefs, watching culinary demos, attending new and old favourite events, and eating 'til my belly buss. It was all that I dreamed it would be, but by working alongside the DOT I experienced firsthand how busy it is behind the scenes. Our rigorous schedule meant that we would attend event-after-event, arrange interviews with headline chefs and in our "free time" post on social media and write our blogs. It was a whirlwind weekend, with the first two days lasting over 12 hours, but I loved every second of the experience and working with my DOT team!
Feeling the most qualified I have ever been regarding Cayman Cookout I wanted to give you a rundown of my favourite events. If you are craving a more detailed write-up for these and other events from this year that myself, Cassandra Morris and Daniel Taugher attended, then head to the DOT's Culinary Capital blog at www.culinarycapital.com.
Enjoy!
Lionfish Culling with Chef José Andrés - US$475
Chef José Andrés loves scuba diving whenever he visits Cayman, so a few years back he joined Chef Thomas Tennant and Ambassador Diver's Jason Washington on a lionfish cull. This year it turned into an official event where guests enjoyed a beautiful two tank dive, gained knowledge on the importance of culling lionfish to protect our reefs and tried a few preparations of this invasive species created by both chefs. The Ritz-Carlton, Grand Cayman also provided the most impressive spread I have ever seen on a dive boat consisting of sashimi, Mediterranean vegetables and dips, sandwiches and bite-sized desserts. It wouldn't be a Cayman Cookout event if there weren't some drinks, so luckily Cayman Spirits Company provided wine and craft beer for everyone to enjoy after the dives. This was easily one of the most unique events this year as it managed to combine Cayman's diving and foodie tourism perfectly.
Ultimate Wine Fair and Auction - US$125
The Ritz-Carlton, Grand Cayman's ballroom and foyer were transformed and engulfed by a vivacious crowd attending the Ultimate Wine Fair and Auction. Being a newbie to this signature event I made sure to take in everything I saw. Firstly, there were over a dozen food stations helmed by Ritz-Carlton Company Chefs serving up delectable small plates. Secondly, a variety of wineries were set up and provided tastings of white and red wines in hopes that you would find a new favourite brand. And finally, guests could roam around the ballroom and foyer to see the expansive collection of silent auction items or bid on some pretty cool packages at the live auction. Due to its relaxed vibe there were no assigned seats, but I did feel that they provided enough as I found one pretty quickly. For having one of the cheapest prices for a Cayman Cookout event, I definitely felt that guests got their money's worth.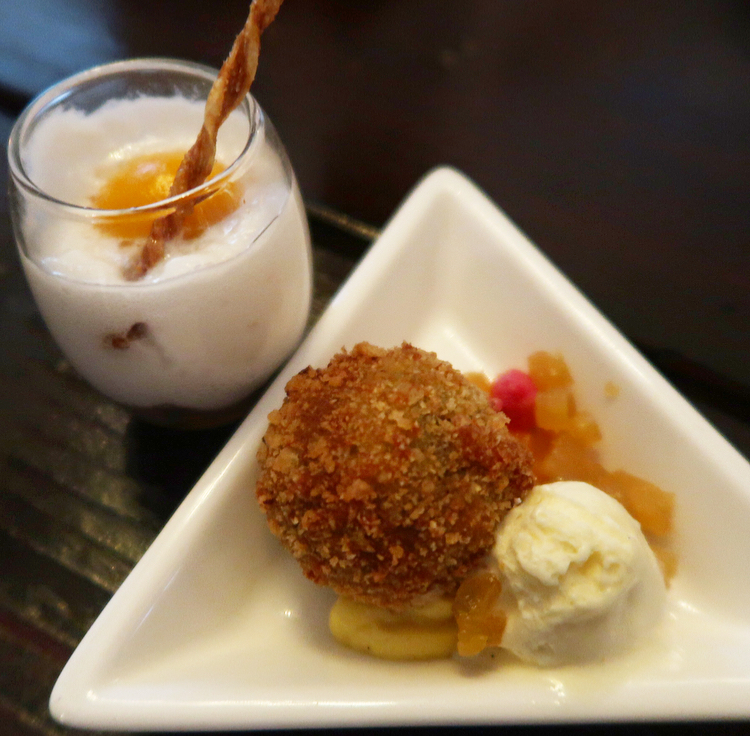 Southern Design with Chef Sean Brock - US$195
Before I knew that I had won the competition with DOT, I had already bought a ticket to attend this event. I am a super fan of Chef Sean Brock's because of his Emmy award-winning role in the PBS series Mind of a Chef (now on Netflix if you are interested!) and have a copy of his cookbook, Heritage. He has also won a James Beard Award for "Best Chef Southeast" in 2010 for his refined approach of Southern cuisine. He is one of the strictest and most passionate farm-to-table chefs I've ever seen and is known to say "If it ain't Southern, it ain't walkin' in the door".
When Chef Brock came out to explain the meal I was beyond excited; 2 year old aged ham, lobster and grits, CAB with black truffle, and a passionfruit sorbet with marshmallow and bene seed. This was all perfectly paired with Thomas Fogerty wines and having the owner stop by our table to discuss each pairing was an added touch. This lunch opened my eyes to true Southern cuisine as I originally stereotyped it as being mostly deep fried or dressed in a gloopy sauce.
After the meal had finished I accidentally (and luckily!) ran into Chef Brock as he was sneaking out the back. He saw my wide-eyed look and politely stopped as it was clear I was an admirer. I only had a few seconds so I said hello, complimented his meal and I mentioned that one day I will have to try out the "hangover hanky" as seen in Mind of a Chef. Luckily this made him laugh before he carried on his way. *Note: a "hangover hanky" is simply a dish towel dipped in liquid nitrogen that you put on top of your head. It looks legit. Google it!*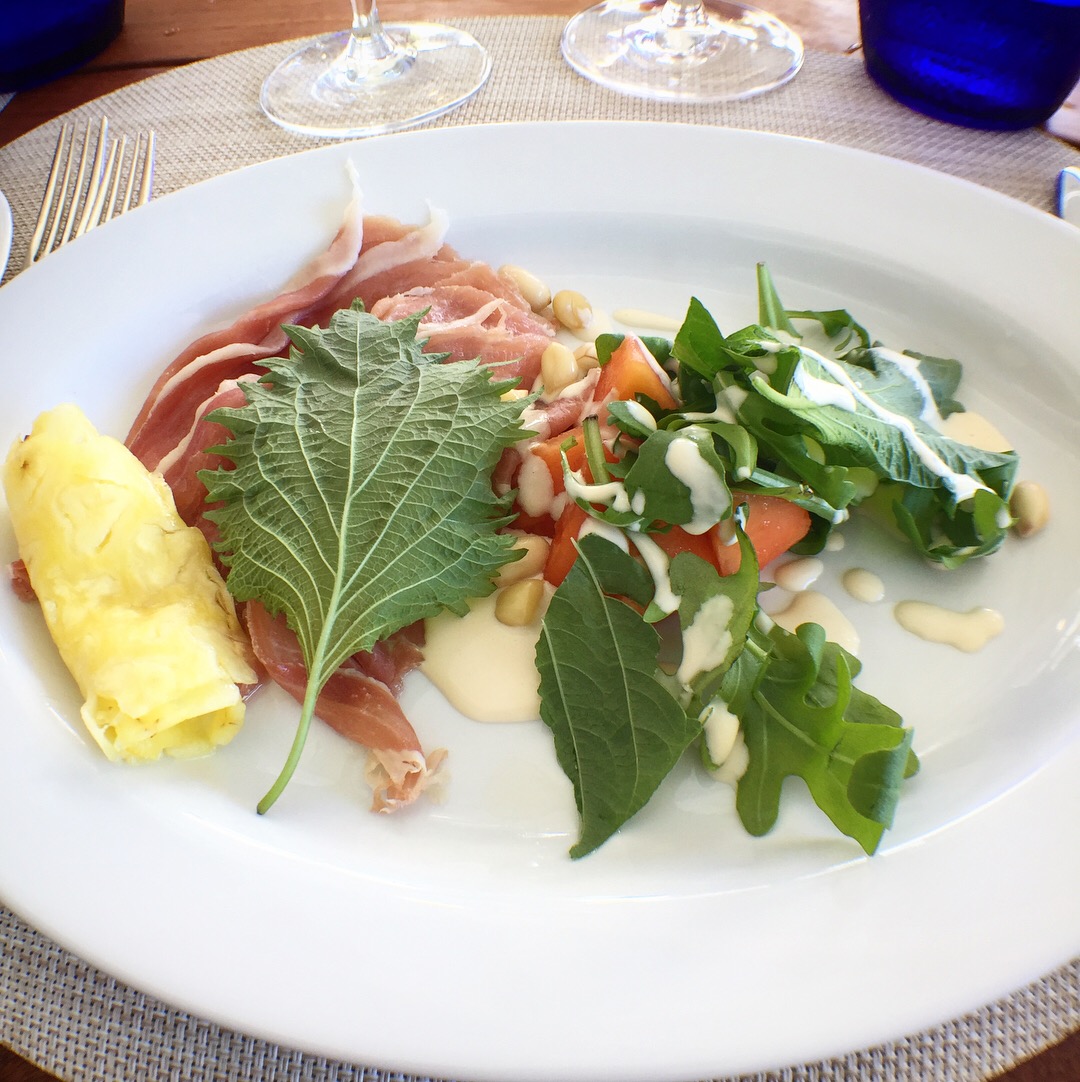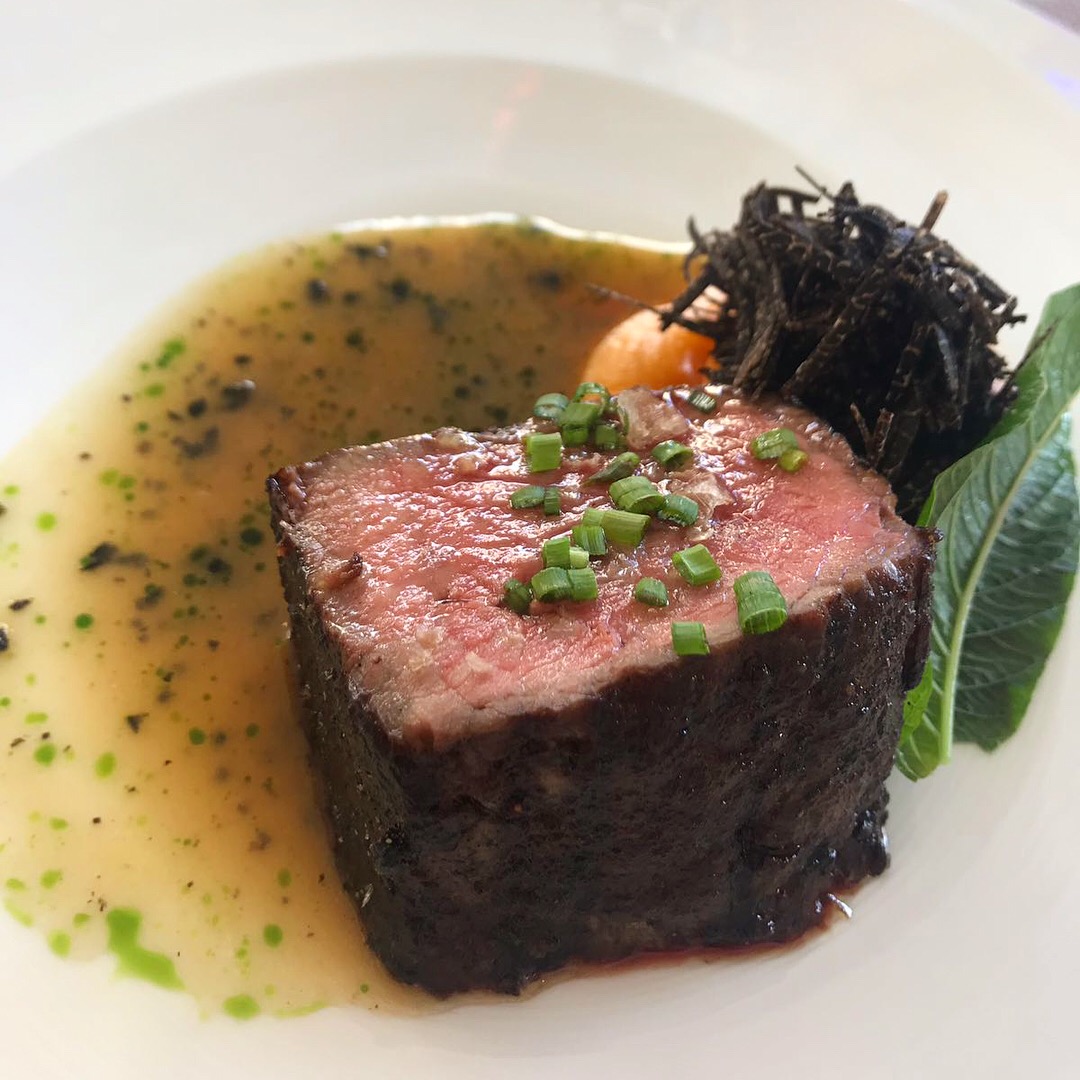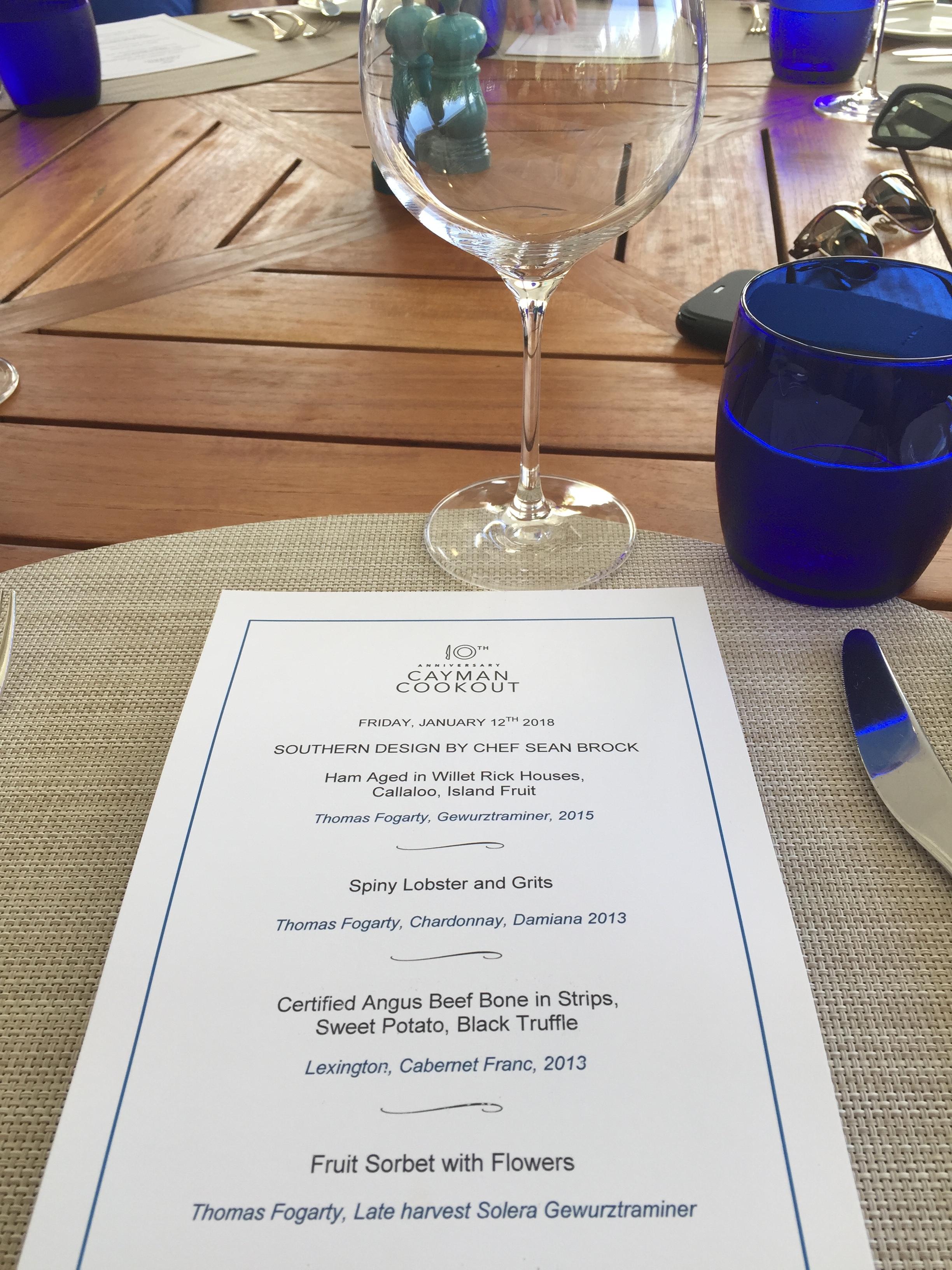 World Class Sunset Bar - US$75
New to this years Cayman Cookout roster was the World Class Sunset Bar. To create a speakeasy effect guests only found out closer to the time where this happy hour spot was being held. After riding an elevator to the top floor of the Ritz-Carlton, Grand Cayman guests were given 4 drinks tokens as they stepped out onto a rooftop patio to see a DJ spinning cool tunes and guests gathering around the bar. Local mixologists Simon Crompton and Amba Lamb put forward some delicious and creative cocktails to match the stunning views of Seven Mile Beach. The event only lasted for two hours because of the close proximity to hotel rooms, but it was sold out nightly throughout Cayman Cookout. One can only hope that the Ritz-Carlton takes advantage of this space in future because it is an ideal spot to watch Cayman's epic sunsets.
Olé José - US$165
I am not the biggest fan of culinary demos because I feel that the price you pay for a cocktail, a small plate and to see your favourite chef in action isn't really worth it. But I have been told for years that Olé José is the must-do demonstration because Chef José Andrés goes above and beyond with his entrance and demo. It must be true because this is one of the first events to sell out each year!
For the 10th anniversary he really went all out by letting us believe he was auditioning to be the next James Bond. The 007 theme music was blaring as Chef Andrés jumped 20 feet out of a helicopter into the sea, was quickly towed to shore and then took aim at the crowd with his golden champagne gun. So in short, a pretty epic entrance! But the fun was just getting started as he had the audience laughing constantly by testing (aka chugging) each liquor component in his champagne sangria, using Iberico ham as lip gloss and making Donald Trump jokes. This hour-long demo provided guests with a refreshing cocktail, jamón ibérico with Osetra caviar and his famous paella with local lionfish & snapper. I now know that if Chef Andrés is running the show it's worth attending to eat some good food and have a good laugh.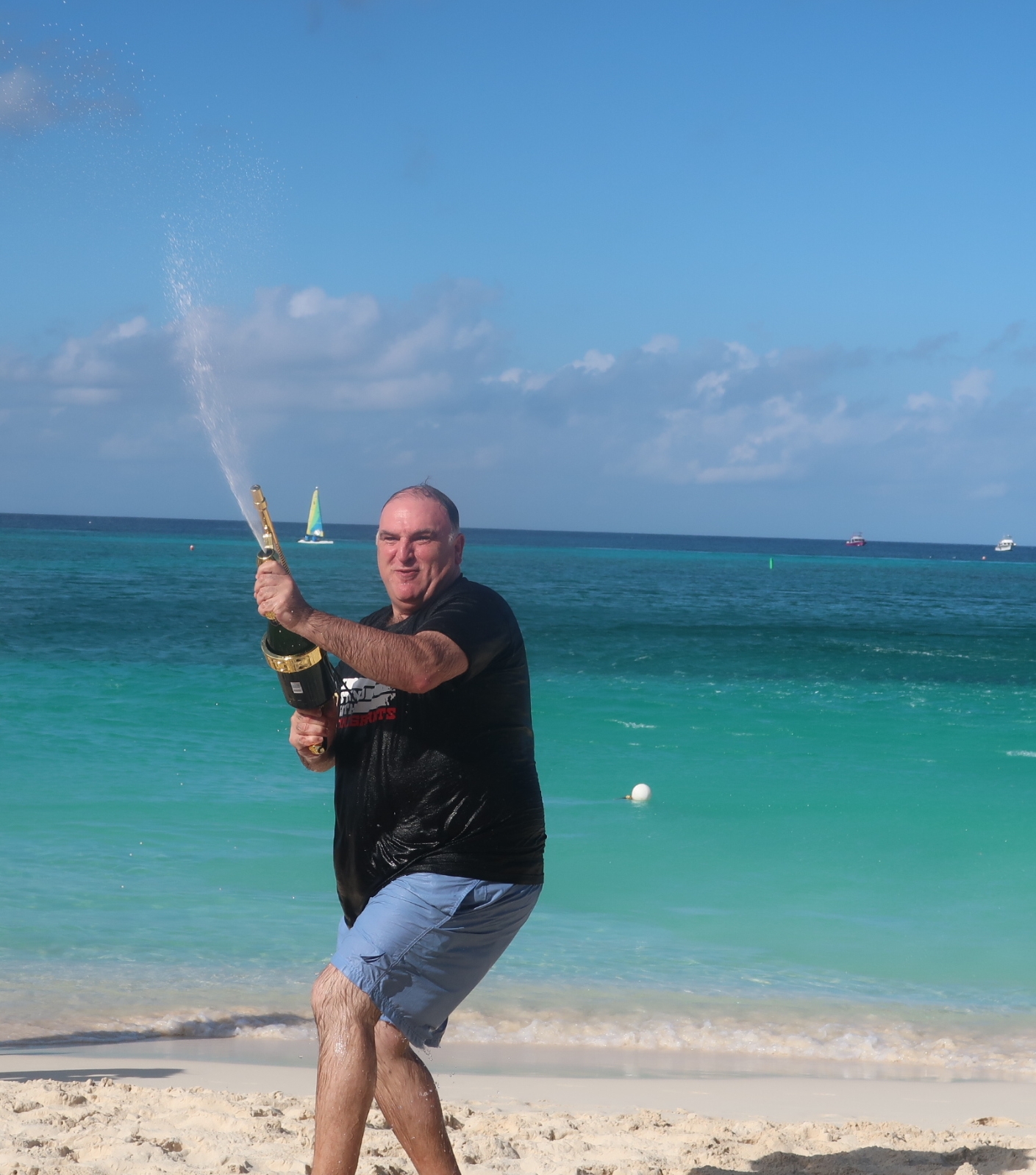 The Beach Bash - US$325 / US$385
The Beach Bash is a signature Cayman Cookout event and is one of the few hosted off-site; specifically all the way at Rum Point in North Side. Guests could opt to take a Red Sail Sports catamaran across the North Sound (US$385) or figure out their own transportation (US$325). They transformed this shady beach into an exclusive venue where cocktails were mixed by Amba Lamb and Charles Joly, Moët & Chandon Ice Impérial Rosé was readily flowing and white wooden stalls hosted an array of celebrity chefs serving beach appropriate dishes. I enjoyed the casual set up where guests walked to each food stall and interacted with their favourite chefs. It is such a large space so it didn't feel too crowded and there was a perfect amount of food stalls to fill up each guest.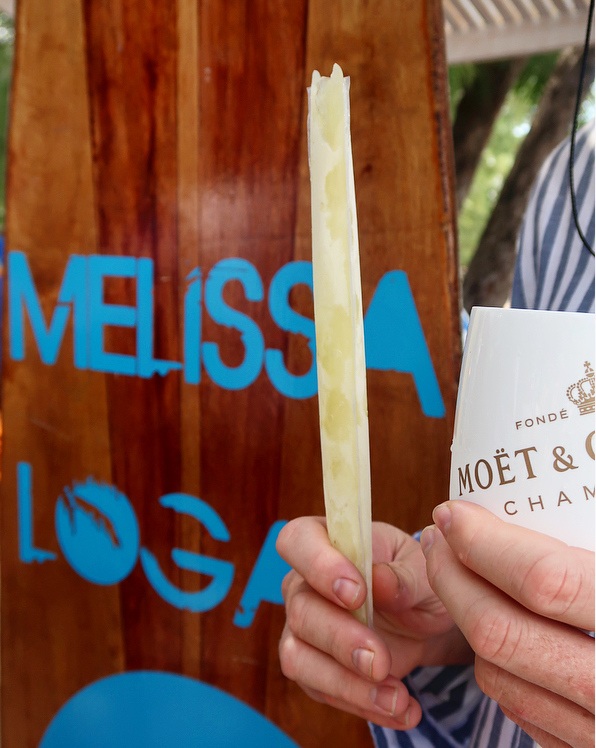 Ripert, Ricard & Pétanque - US$175
It's only in its second year, but it was once again a hit with Cayman Cookout guests. This is the only event where you will see visiting chefs and the "three amigos" doing something that is not food-related. This year we saw chefs Eric Ripert, Anthony Bourdain, José Andrés, Dominique Crenn, Philippe Haddad, Bernard Guillas and Daniel Boulud compete for the title. The French game of pétanque is very similar to Italian bocce and English lawn bowls as teams try to get their steel balls closest to the small wooden ball known as the jack or cochonnet. The competition can get pretty fierce with balls from opposing teams only being centimeters away from the cochonnet. If it can't be decided amongst the teams who is closest, a judge will come over, whip out a measuring tape and make the final call so the game can continue. I am always entertained by the smack talk between the chefs and seeing how close games get keeps you on the edge of your seat. Even though the field of players was dominated by French chefs it was actually Anthony Bourdain who won in the finals against our Cayman Cookout host, Eric Ripert. It will be interesting to see if the French will redeem themselves at Cayman Cookout 2019!