Vancouver, B.C., Canada
Vancouver really stands up to all of the hype. It has stunning mountain and sea views, friendly residents, bustling neighbourhoods, adventurous activities and, of course, proud followers of the farm-to-table movement. I chose to visit this city mainly for the food scene, but also knowing there would be a lot to see and do in the span of a week. So enjoy this guide on where to visit, eat and drink when you finally plan your trip to Vancity.
Where To Eat...
The Flying Pig
1168 Hamilton St., Vancouver
We visited the Yaletown location, which is a young hip neighbourhood, and it was buzzing when we walked in for their 'Appy Hour session. We grabbed a few (unhealthy) yummy appy's and some local brews to kick start our Vancouver trip. The Flying Pig has 3 locations throughout the city, but this location won 3rd place in the 'Yaletown' category in Vanmag's 2016 Vancouver Restaurant Awards.
Hawksworth
Rosewood Hotel Georgia, 801 W. Georgia St., Vancouver
https://hawksworthrestaurant.com/
This is your splurge restaurant! It is listed in Vanmag's 2016 & 2017 Vancouver Restaurant Awards as 'best upscale', as well as in Canada's 100 Best Restaurants 2017 as the 6th best restaurant in Canada and the best restaurant in British Columbia. The service is incredible and the food is creative, beautiful and delicious at this contemporary Canadian restaurant. You can opt for the seasonal a la carte menu or the always changing, adventurous tasting menu. Definitely go for the wine pairing with the tasting menu (you may as well go all in)! I wish that I could have had better photos showcasing the experience, but sadly the romantic lighting got in my way. Some of my favourites included smoked sturgeon with saffron potato, green olive and charred buttermilk, as well as the confit pork with king oyster mushroom, smoked cauliflower and summer black truffle. Make sure you check out their website to see how stunning the food truly is.
Ask for Luigi
305 Alexander St., Vancouver
This Italian-inspired restaurant may be the smallest place that I have ever been in! But note they are well respected for making some delicious food even though their brunch, lunch & dinner menus consist of less than 20 items. It was given an honourable mention in the 'best brunch' category and won 2nd in the 'Gastown/Railtown' neighbourhood in Vanmag's 2017 Restaurant Awards. If that's not enough to impress you to visit this wee restaurant then note that it also made the Canada's 100 Best Restaurants 2017 list at 90th place in Canada and 17th place in British Columbia. We ended up going for brunch as they serve it on Saturdays & Sundays, but I'm sure the regular menu is just as flavourful, especially with all of their accolades. You should note that they don't accept reservations and you can only fit 6 maximum per group, so be prepared to wait (but it's totally worth it!)
Blue Water Cafe
1095 Hamilton St., Vancouver
When in Vancity you have to eat the local seafood, and Blue Water Cafe is the restaurant to go to for the freshest and best dishes. The outside patio seemed small when we walked by, but once we entered the restaurant we saw how far reaching it truly was. We ate some of the freshest sustainable seafood that Vancouver has to offer from Dungeness crab to salmon to lobster. The appetisers were beyond creative, whilst the mains were classically done favourites. The server was attentive and he even organised for the sommelier to come and speak to us about which wine would pair best with our meal. They were rated 78th in Canada and 14th in British Columbia on the Canada's 100 Best Restaurants 2017 list. It has also won the 'best seafood' category in Vanmag's 2016 & 2017 Restaurant Awards.
VIJ'S
3106 Cambie St., Vancouver
Assume you know nothing about Indian food until you have eaten at a Vikram Vij restaurant. Our foodie friends from Squamish told us that we had to make this a priority. It doesn't hurt that it won 2nd in the 'best Indian' category in the Vanmag 2017 Restaurant Awards and is #26 in Canada and #4 in British Columbia on Canada's 100 Best Restaurants 2017 list. Vikram is beloved in Vancouver and rumour has it that if he's at the restaurant he will stop by your table to check in. The food is mind-blowingly delicious, the servers were attentive and surprisingly all of the cooks are women. It may be just outside of the downtown area, but the unique flavour combinations are worth the drive.
Ramen Danbo
1333 Robson St., Vancouver
There is some pretty authentic Asian cuisine in Vancouver, so it was decided that we had to have some ramen on our trip. Tommy absolutely loves it and I have never had it before so we went for it. We stumbled upon Danbo Ramen while walking along Robson St. and after verifying that they had a high rating online we decided to go in. This was definitely not ramen you got in a styrofoam cup, but a rich and intensely flavourful broth with pork, scallions and any additional toppings you wanted. I'm not really a believer of egg in soups so I opted for my favourite food item, mushrooms! You can also customise your ramen further by choosing your noodle thickness and firmness. The staff recommended that we order another batch of noodles when our broth was half empty so that we could finish off every last drop. Slurping recommended!
Japadog
Check website for multiple locations
Japadog is another popular gem that will challenge everything you know about food. Hear me out. This is a Japanese-style hot dog truck/cart moving around 6 locations in Vancouver (plus 1 restaurant). This may have been the quirkiest restaurant I had ever heard of, but we just had no time to find one. Luckily as we headed to the airport to leave we happened to find a Japadog cart across from the terminal and I knew this had to be our last taste of Vancouver. We kept it simple by going for the signature dog which is the Kurobuta Terimayo; a korobuta pork hot dog topped with teriyaki sauce, Japanese mayo, fried onions & seaweed. I say simple because you have not seen the other crazy creations. You definitely need to be open-minded to eat one of these out-of-the-box, delicious dogs.
Fergie's Cafe
70002 Squamish Valley Rd., Squamish
http://www.sunwolf.net/fergies/
Whilst visiting Squamish we met up with our friends for lunch at Fergie's. I had done some research on my own and saw that it was a local favourite and recommended as one of the best breakfast and brunch spots to visit in this small town. This is definitely a place to go to if you are in the area because of the forested outdoor atmosphere, welcoming staff and locally sourced ingredients. This casual vibe means that you have to order and pay inside first, but they will bring your food to the table when its ready. The 'Dubliner Benny' is worthy of ordering after hearing about it from the locals and trying it ourselves.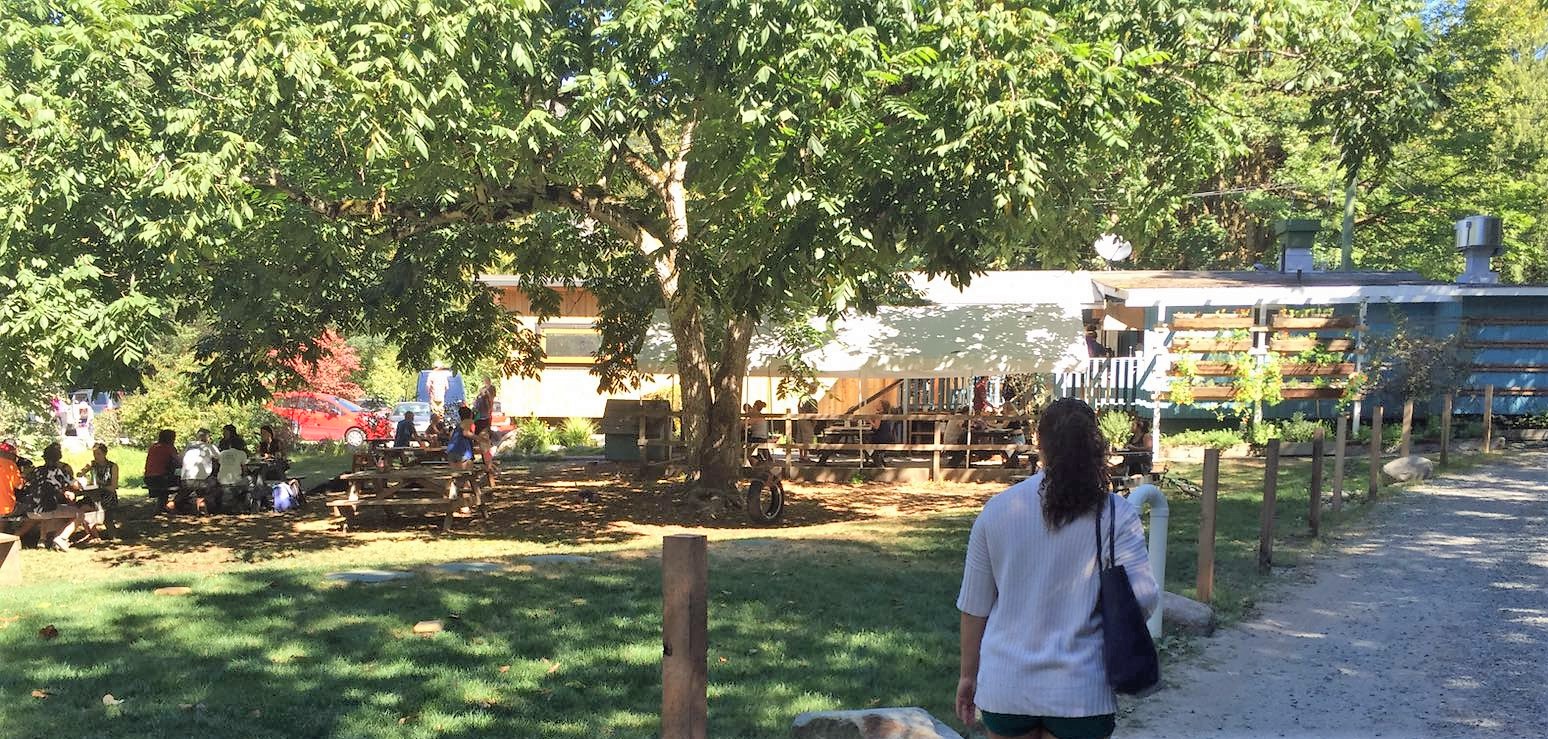 What To Do...
Granville Island Public Market
1669 Johnston St., Vancouver
http://granvilleisland.com/discover-island/eating
Cayman has only started to really develop their farmer's market, so to visit the public market on Granville Island was eye opening. There were so many different vendors consisting of local produce, freshly caught fish, wine merchants, sausage makers, a brewery, custom-made French macarons and so much more. Our Squamish friends advised us to go to the Oyama Sausage Co. for the best cured meats; the Benton Brother's Fine Cheese for an array of cheeses from cow to buffalo; and also the Artisan Sake Maker to do a tasting and buy some local sake. My all time favourite dessert is French macarons so when I found Bon Macaron Patisserie I was ecstatic to see the variety of sweet & savory flavours. These life changing flavours included bacon, watermelon, rose & lychee, salted caramel and champagne flavours, just to name a few. I could have probably spent a whole day tasting food and drinks from different vendors, but we decided to check out the craft stalls and art stores in the area for a memorable souvenir.